Texas NORML's 4th Annual Puff n Putt

at Willie Nelson's Pedernales Cutt n Putt 
807 Paisley Dr, Spicewood, Texas 78669
Saturday, March 25th, 2017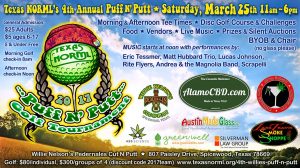 Online ticket sales end at 10 pm on 3/23/17.
Purchase General Admission or the few remaining Golf Pass.
Texas NORML is proud to announce the 4th Annual Puff-N-Putt Spring Fling on Saturday, March 25th, 2017. This family-friendly event is a benefit to raise funds for Texas NORML's mission to gain safe access to cannabis for adults with a focus on supporting Texas Veterans and their fight in the war to re-­legalize cannabis. Come and enjoy a day of golf, live music, disc golf, vendors, food, glass blowing and a great day at the legendary Willie Nelson's Cut-N-Putt Golf Course located in Spicewood, Texas. Check out this video of previous year's Puff N' Putt!
If you do not purchase your ticket by the deadline, you can purchase your tickets at the door the day of the event.