Texas NORML's 9th Texas Marijuana March
 #TMM2016
Saturday, May 14th, 2016

Come participate with Texas NORML in Austin, Texas as we march to the Texas Capitol Building in support of cannabis law reform. We will exercise our first amendment rights of freedom of speech and redress of our grievances with the government of Texas. Help us bring attention to the failed Drug War and the failed drug policy of prohibition! Remember that this March is being held at our State Capitol. Let us ALL come out from near and far to show the powerful support this issue has. 
We will meet at City Hall at NOON. The March will start at 12:40pm. We will march up Congress and up to the Capitol's South Steps where we will hold the rally at 1:15pm. Please note that there are other events scheduled around ours at both City Hall (301 W 2nd St, Austin, Texas 78701) and the Capitol (1100 Congress Ave, Austin, TX 78701) so please be punctual.
Patients will lead the March with a banner. (Any patients unable to participate in the March are encourage to meet at the South Steps.) Veterans are encouraged to wear hats, shirts or ribbons identifying their military service and dedication. We will also have a banner for the Veterans to walk with.
Bring an umbrella for shade (or protection from the rain) while you march and attend the rally. We will provide water at the Capitol Building South Steps. We will have some signs but please feel free to make your own and bring it. Kid Friendly! Please use the hashtag #TMM2016 for all Texas Marijuana March posts.
We will be hearing from a brilliant array of speakers ~
* Judge John Delaney from Law Enforcement Against Prohibition
*Nelson Linder, President of the Austin NAACP
*Ed Espinoza, Executive Director of Progress Texas
*David Bass, Director of Veteran Outreach, Texas NORML
*Colt DeMorris, Founder and Executive Director of El Paso NORML
*Jav Tovias, Founder and Executive Director of RGV NORML
*Mark Miller, Libertarian Party of Texas
*Kyle Hoelscher, President of NORML Corpus Christi
*Dawn Brooks, Senior Alliance, Texas NORML
Becca Harmon, Team Jilli
and more to come!
ASL Interpreters will be provided.
Follow the #TMM2016 Event page for updates HERE. 
After the big March and Rally, we will get together at Sidewinders (715 Red River St, Austin, Texas 78701) for and After Social from 4-8pm. You can follow the After Social Event for updates HERE. 
WANT TO VOLUNTEER? Check out our needs HERE.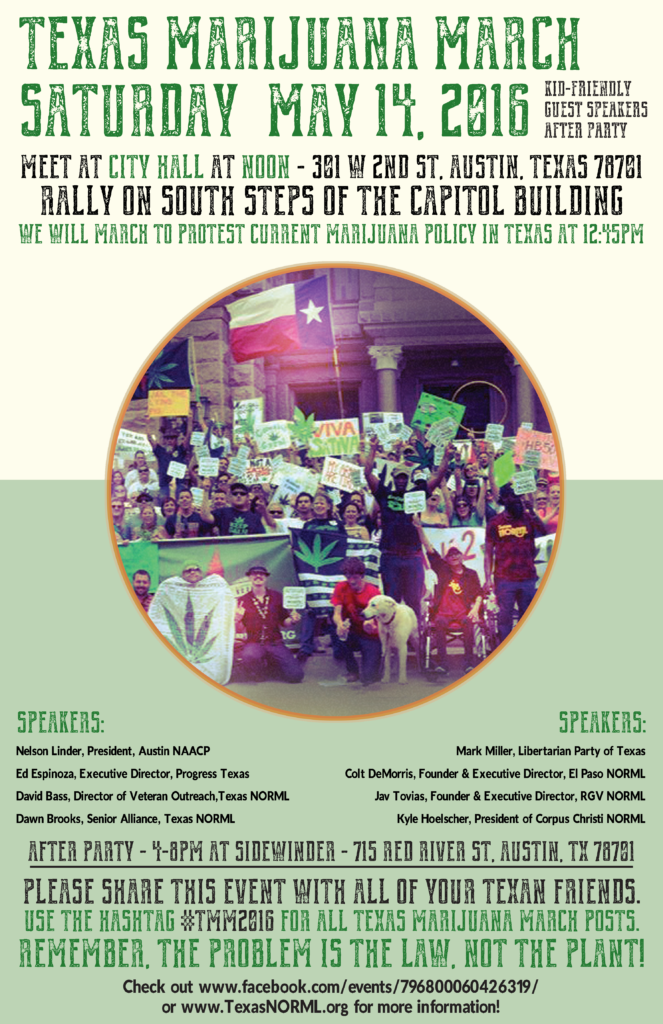 PARKING
City Hall – City Hall has a parking garage at 301 W 2nd Street under City Hall Building. It is first come first serve parking, free till 5pm and $8 flat rate afterwards. There is handicapped parking in the garage. There is also a parking garage at 100 Congress Ave P1 or State Garage N on W 3rd St. There will also be several other parking lots in the area and surface street parking.
Capitol Building – Please park in the Visitor Parking Lot at 1200 San Jacinto. It is free for the first 2 hours and then charged hourly but no more that $8 for the whole day. There is handicapped parking in the garage as well as on the surface streets to the East of the Capitol Building. Please remember that metered parking around the Capitol Building only accepts change not credit cards.
It is important that all Texans from all cities come and show their support for drug law reform and help us keep the eye of the media and our lawmakers on this critically important issue!
Remember, the problem is the LAW, not the plant!
Please share this event with all of your Texan friends.
We are coordinating with our fellow chapters across Texas. If you live in one of these cities, you can participate in their march on 5/7/16 and then join us at the Capitol on 5/14/16.
5/7/16 Events:
El Paso 
Houston
Amarillo
Lubbock
Corpus Christi
Dallas / Fort Worth
San Antonio