September 15th, 2010 By: Paul Armentano, NORML Deputy Director
Police prosecuted 858,408 persons for marijuana violations in 2009, according to the Federal Bureau of Investigation's annual Uniform Crime Report, released today. The arrest total is the second highest ever reported by the FBI, and marks a 1.3 percent increase in the number of arrests reported in 2008 (847,864).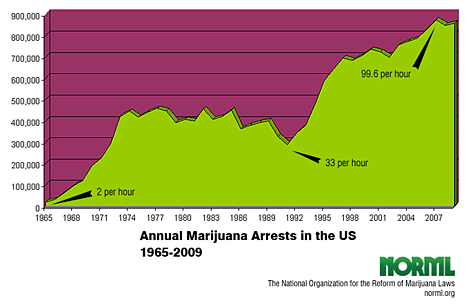 According to the report, marijuana arrests now comprise more than one-half (approximately 52 percent) of all drug arrests reported in the United States. A decade ago, marijuana arrests comprised just 44 percent of all drug arrests.
Approximately forty-six percent of all drug prosecutions nationwide are for marijuana possession.
"The numbers tell the story; the enforcement of criminal marijuana laws and the prosecution of marijuana offenders, in particular minor marijuana possession defendants, is driving the present drug war," NORML Deputy Director Paul Armentano said. "Those who claim otherwise would be better off advocating for a long-overdue reprioritization law enforcement resources and concerns.
"It makes no sense to continue to prosecute Americans for their use of a substance that poses far fewer health risks than alcohol or tobacco. A better and more sensible solution would be to legalize and regulate cannabis in a manner similar to alcohol, as is presently being proposed in California by Proposition 19."
Of those charged with marijuana violations, approximately 88 percent (758,593 Americans) were charged with possession only. The remaining 99,815 individuals were charged with "sale/manufacture," a category that includes virtually all cultivation offenses.
Regionally, the percentage of marijuana arrests was highest in the Midwest (62 percent of all drug arrests) and southern regions (56 percent of all drug arrests) of the United States, and lowest in the west, where pot prosecutions comprised only 40 percent of total drug arrests.
In 2007, the FBI reported 872,721 marijuana prosecutions in the United States, the highest total on record.