We hope you'll join us for the FREE open monthly meeting taking place the FIRST Wednesday of EVERY month, at 8 pm at Flamingo Cantina, 515 East 6th Street, Austin, TX 78701.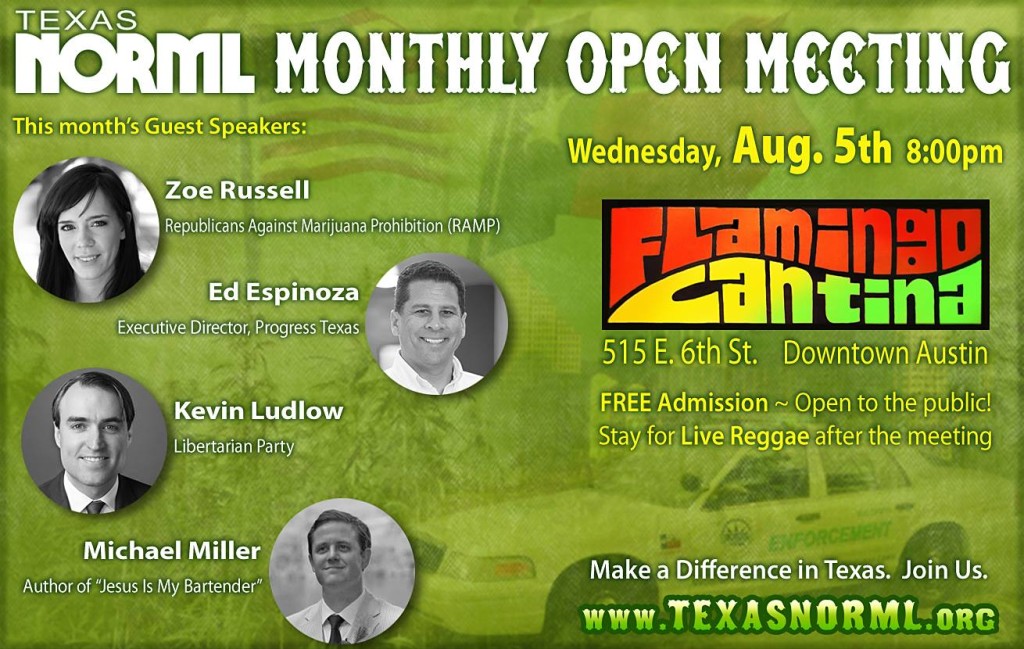 The most exciting aspect of the legalization movement in Texas is that we are a cross-partisan coalition. Citizens from very different political and religious philosophies all agree that we must reform marijuana laws in Texas. This month, we have invited representatives from the three major political parties in Texas to speak. Our speakers will be Zoe Russell of Republicans Against Marijuana Prohibition(RAMP); Ed Espinoza, Executive Director of Progress Texas; and Kevin Ludlow, former Libertarian candidate for the Texas House of Representatives, Libertarian Party of Texas. We have also invited Michael Miller, author of Jesus Is My Bartender, to discuss marijuana law reform from a Christian point of view.
This will be an exciting and timely event. Preparation for statewide election are about to begin. Our goal is to make marijuana legalization a key issue and urge the candidates to discuss reforming marijuana laws in a logical, reasoned manner.
Immediately following the meeting, there will be free live Reggae music brought to you by the always amazing Mau Mau Chaplains!
We hope to see you all soon! Come on out and get involved so we can change the laws here in Texas and make some new friends while doing it!