The TX NORML Senior Alliance is proud to present an open discussion of "Seniors and the Opioid Dilemma – Is Cannabis the Answer?" on Thursday, February 8th from 6-8pm in Sun City, Texas. Our featured speakers will be Nishi Whiteley, author of "Chronic Relief: A Guide to Cannabis for the Terminally and Chronically Ill" and retired judge, John Delaney. We will be located at The Atrium at the Activity Center, 1 Texas Dr., Sun City, TX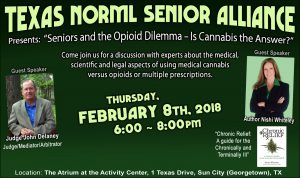 Ms Whiteley will provide information on cannabis use as an adjunct or therapy program and explain its relationship to our endocannabinoid system. Judge Delaney will provide information on the law and how Texas (technically) is a medical cannabis state, but the law is limited with who may benefit from this legislation. Both speakers are considered experts in their fields and have engaged and participated in legislative discussions pertaining to why our Texas laws need to be expanded and changed in the 2019 session.
The two hour meeting will provide you with:
· Basic information on cannabis, the plant
· What happens to your body when you ingest cannabis
· Why cannabis of today is not as it was in the 60's
· What laws are there to protect me?
· What's the difference between "recreational" and "medical" use?
· What are the risks/penalties for use?
· Actions needed for change.
There will be a question and answer session at the end of the presentation, so please bring your questions and feel free to ask about those things you've always wondered about, but were hesitant to ask. This will be a safe place to get information, ask questions and meet like minded folks who are seeking information or are looking for ways they can help to make change in the 2019 session.
Live updates will be posted on the event page.