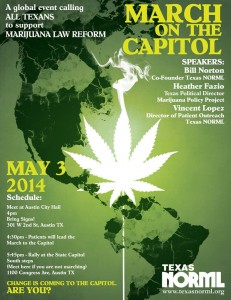 The time for the annual Worldwide Marijuana March is approaching! Come participate with Texas NORML in Austin Texas as we march to the Texas Capitol Building in solidarity with our compatriots worldwide. Help us bring attention to the failed Drug War and the failed drug policy of prohibition.
We will meet at City Hall on Saturday, May 3 at 4:30pm and march down Congress and up to the Capitol's South Steps where we will hold a rally.
We will be inspired and educated by our speakers ~ Bill Norton, Co-Founder of Texas NORML; Heather Fazio, Marijuana Policy Project; Vincent Lopez, Texas NORML's Director of Patient Outreach.
It is important that all Texans from all cities come and show their support for drug law reform and help us keep the eye of the media and our lawmakers on this critically important issue.
Remember, the problem is the LAW, not the plant!
Please share this event with all of your Texan friends. 🙂
After Party – We are happy to announce that we will be celebrating another successful March at Flamingo Cantina while listening to the epic SubKulture Patriots. Check out the event page here – https://www.facebook.com/events/632358260172272/
Can't make it to the March in Austin? If Dallas is more feasible join in the action with the march there! Check out the DFW NORML Event page for more details!