Upcoming Events​
---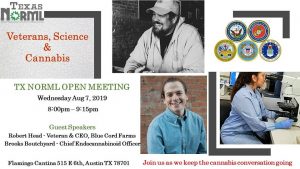 This month's topic will be Cannabis: Veterans and Science. Our MC will be board member, Anita Sommers (Veteran and Microbiologist). Our guest speakers will be Robert Head​ (Veteran and CEO of Blue Cord Farms​) and Brooks Boutchyard (Chief Endocannabinoid Officer). We will also be giving away some glass from GRAV​! Scheduled for Wednesday, August 7th. Doors Open at 8pm. Located at the Flamingo Cantina at 515 E 6th St, Austin, Texas 78701.
---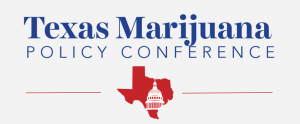 Texas Marijuana Policy Conference​
This three-day conference will offer presentations from policy and industry leaders to help attendees better understand and navigate the new legal climate. Check out some of the amazing confirmed speakers​ like Representative Eddie Lucio, III and Dr Sue Sisley! The Conference will focus on opportunities and our path forward to ensure more meaningful policy changes when the legislature meets again in 2021.
In addition to policy and advocacy discussions surrounding decriminalization, medical cannabis, and hemp, they will feature a track of cannabis business sessions geared toward entrepreneurs, market watchdogs, and investors. Several of the sessions will qualify for continuing legal education (CLE) for attorneys (application pending).
---
We'll have updates on some of our events this past month as well as the latest news from around Texas and the US about cannabis law reform. More TBA. Following the meeting there will be free live Reggae music brought to you by the always amazing Mau Mau Chaplains! Scheduled for Wednesday, September 4th. Doors Open at 8pm. Located at the Flamingo Cantina at 515 E 6th St, Austin, Texas 78701.
---

NORML Conference and Lobby Day in DC​
On Sunday, NORML will host a Leadership Summit where attendees will be awarded certificates and NORML Leadership lapel pins to recognize their accomplishment. Training modules include: chapter organization, effective messaging strategies, lobbying to win, event planning and execution, and more. Afterwards, there will be a reception with awards. On Monday, NORML will present conference programming including expert panels, policy debates, and energizing speakers covering a wide range of marijuana policy-related topics. On Tuesday, head to Capitol Hill with NORML where Lobby Day participants will meet with Congressional offices and advocate for the end of federal marijuana prohibition.
---
Now that the heat of summer has turned up, stay cool in one of our Texas NORML tanks! We are offering three different unisex tank styles for sale this summer:  Texas NORML Gear Tank,​ Team Hope through Cannabis (THC) Tank​ and the Keep Austin NORML Tank.​ We have marked them down by 25%, so grab yours before they are gone.
By purchasing Texas NORML merchandise​, you are shopping with purpose! All proceeds from memberships and merchandise goes towards Texas NORML's mission of dismantling prohibition in Texas.
---
SAVE THE DATE
Saturday, October 26th – Texas NORML Member's Mixer – These private, catered parties are only for our members. Join now​ to ensure you get your invite!