Veteran's Day:
Parade and Press Conference
Friday, November 11th, 2016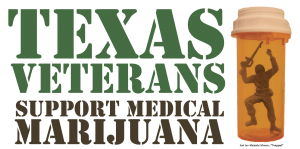 We invite all veterans and citizens who support veterans to march with us in the
Austin Veterans Day Parade
on Friday, November 11th. We request that you
pre-register
for this event so that we can keep you updated on changes and day of items. Please pre-register
HERE
.
8:00am – We will meet at the Ann W. Richards Congress Avenue Bridge for the parade lineup.
9:30am – The parade starts and moves from the bridge to the state Capitol. We will carry our Texas Veterans Support Medical Marijuana Banner and we will be announced at the reviewing stand as Texas veterans advocating for a medical marijuana program.
1pm – Operation Trapped Press Conference at the Texas Capitol Vietnam Veterans Monument. We will display our Operation Trapped pill bottles and several veterans will discuss our plans to advocate for a medical marijuana bill during the 2017 legislative session. This will mark one year from the #OperationTrapped launch date.
PARKING: Available at the Austin City Hall Parking Garage (City Hall address is 301 W. 2nd St) or the Texas Capitol Visitors Parking Garage (1201 San Jacinto Blvd). There will be street parking but please note that some of these meters will only accept coin. Vets with disabled vet license plates park for free in city owned parking facilities and parking spaces.
We advise that you bring water. This is a family friendly event. Stay tuned to the event page for updates.
This is our second year to march. Last year, we were cheered by the large crowd all the way up Congress Avenue to our Capitol. Let's show Texas that we want a medical marijuana program in 2017!
Email dave@texasnorml.org for questions.