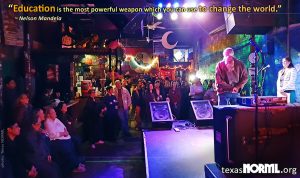 We were blown away by the interest in this event! The location was standing room only with several hundred people that attended throughout the night. Additionally, we had an unprecedentedly strong candidate response with 26 candidates attending, 3 of which are incumbents. For those of you that were not able to join us for this important event, we wanted to proved the following information for you:
Candidate Forum – Texas Marijuana Policy: Texas State Representatives and Texas State Senators – Part One.
Candidate Forum – Texas Marijuana Policy: Us Congressional Races – Part Two.
Learn more about candidates stances by checking out our Voter Guide for the 2018 Primary Elections. And if you live in the greater Austin area, we made a voting record sheet for the legislators in your area.
Please support our efforts! In order to help us continue our work, you can do any or all of the following:
List of candidates who participated:
Texas State House of Representatives
Les Carnes, D – Texas State Representative, District 45
Sheryl Cole, D – Texas State Representative, District 46
Jose "Chito" Vela, D – Texas State Representative, District 46
Casey McKinney, D – Texas State Representative, District 46
Vikki Goodwin, D – Texas State Representative, District 47
Elaina Fowler. D – Texas State Representative, District 47
Donna Howard, D – Texas State Representative, District 48 (Incumbent)
Gina Hinojosa, D – Texas State Representative, District 49 (Incumbent)
Celia Israel, D – Texas State Representative, District 50 (Incumbent)
Texas State Senate
Shannon McLendon, R – Texas State Senator, District 25
US Congress
Matt Harris, D – Congressional District 10
Mike Siegel, D – Congressional District 10
Kevin Nelson, D – Congressional District 10
Tami Walker, D – Congressional District 10
Bill Kelsey, L – Congressional District 10
Dale Mantey, D – Congressional District 17
Peter Churchman, L – Congressional District 17
Samuel Temple, R – Congressional District 21
Mary Wilson, D –  Congressional District 21
Julie Oliver, D – Congressional District 25
Chris Perri, D – Congressional District 25
Chetan Panda, D – Congressional District 25
Kathi Thomas, D – Congressional District 25
Mike Clark, D – Congressional District 31
David Smalling, R – Congressional District 35