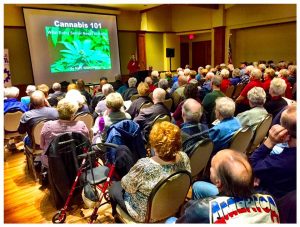 Texas NORML Senior Alliance was so happy to host our first meeting in Sun City! We learned that the interest in medical cannabis in Sun City is so great that it was standing room only and some even had to be turned away due to the fire code for the room. We are planning to bring another meeting to Sun City regarding the forms of medical cannabis and uptake methods. We will keep you updated as we solidify a date for this meeting.
We wanted to share some resources from our meeting:
1. You can view the livestream of the meeting – Part One and Part Two.
2. View our Texas Marijuana Policy Voter Guide – 2018 Primary Edition to find out how the candidates stand on cannabis reform in your area.
3. Find more information about Nishi's book, My Chronic Relief.
4. Find more information about Operation Still Trapped.
Thank you for your interest in this very important topic!