In last night's debate, Governor Abbott clarified his current position regarding his stance on marijuana legalization.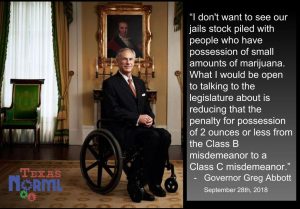 Support our effort at the Capitol!
This is a step for the Governor and we hope to work towards making this change possible.
---
Governor Abbott directly addressed medical cannabis and the current Texas Compassionate Use Program saying, "Parents with children who have epilepsy approached me a couple sessions ago about the possibility of what's called CBD oil for their children. I was moved by what they had to say, I agree with them, and I am the governor who signed the legalization of CBD oil. More recently, I've had discussions with veterans as well as parents of autistic children and others make it a very strong compelling case about legalization of medical marijuana."
Please donate toward our work continuing to reach out to the Governor and the Legislature!
Upcoming Events:
Texas NORML Veteran Conference on 10/20/18 at the Capitol Building in Austin, TX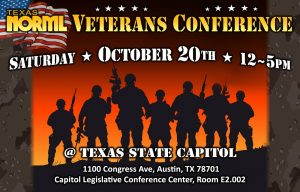 Masquerade Member Mixer, a private, catered, embers-only event on 10/27/18 at a private location in Downtown Austin, TX