We are excited to be working with our coalition partners to put on the first ever Texas Marijuana Policy Conference! It will be held on August 10-12, 2018 in Austin Texas. With medical cannabis available to only a select few — and a patchwork of policies being implemented at the local level — it's important to understand Texas' current policies and how we can improve them.
Use the Texas NORML discount code to save 10%!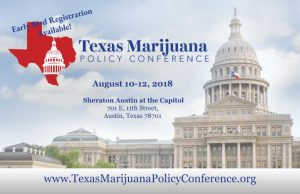 Enter the code upon arriving on the page where it says "Apply Discount Code" in order to see the discounted prices. Code – TxN10
The Friday night reception will kick off the event featuring live, local music. On Saturday and Sunday, you'll hear from legislators, political operatives, attorneys, health-care professionals, celebrities, veterans, patients, and other advocates.
Attendees will also have the option of dining with our special guests for lunch on Saturday and Sunday, as well as an awards banquet on Saturday night.
You can learn more about the conference agenda, hotel information and get live updates from the event page.
PS the Early Bird Special will be going on until July 10th, 2017, so purchase now!